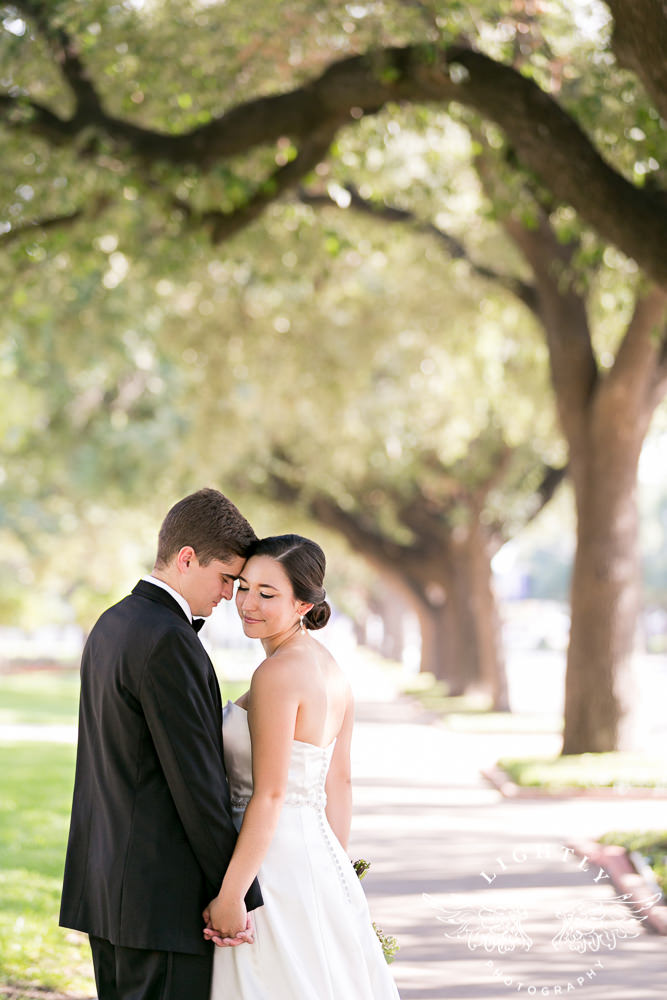 Claudia and Patrick are married and I could not be happier to show off the images from their beautiful wedding!  I have loved getting to know this sweet couple throughout their wedding planning journey.  After crazy amounts of rain, heat and humidity all week I'd say it safe to say that they were blessed with pretty amazing weather.  Good thing too, because we had a lot of outdoor photos planned, starting with the first look!  I love first looks.  I love being the only one who gets to witness and document this special moment between a bride and groom.  With nobody else watching, it gives the couple time to be together and maybe calm each other's nerves before all of the festivities really begin.  Claudia and Patrick were so sweet and excited to see each other.  I loved how excited Claudia was to show off her dress to her future husband.  We spent some time before the ceremony taking many fun photos around Robert Carr and on TCU's campus.  Before we knew it, it was time to walk down the aisle.  The ceremony was made just a little more special since Patrick's hometown priest was the one marrying them.  They had a full mass ceremony and Father Dan did an incredible job of making everyone feel right at home.  After all of the vows, ring exchanges, communion and prayers were said and done, Patrick and Claudia were pronounced husband and wife!  Please enjoy some of my favorite images from their first look and ceremony and learn a little bit about this amazing couple!
"We both love seeing new places! Which is something I truly love about Patrick; he is always open to a new adventure. Traveling for work, and us both being from different places, has allowed us the privilege to see all kinds of places together on weekends! A few being: Charleston, Philadelphia, Nashville, New York, Atlanta, Charlotte, Florida, and multiple trips across Alabama and Texas. On the flip side, we also have a love for laying on the couch, watching The Office, and eating guacamole." – Claudia

-Amanda
A special thank you to all of the vendors!
Event Coordinator – Weddings by Wendy
Hair & Makeup Artist – Elan Makeup Studio
Floral – Blooming Accents
Cake Artist – C Marie's Sweets
Entertainment – Special Edition Band
Paper Products –  The Paper Kutt