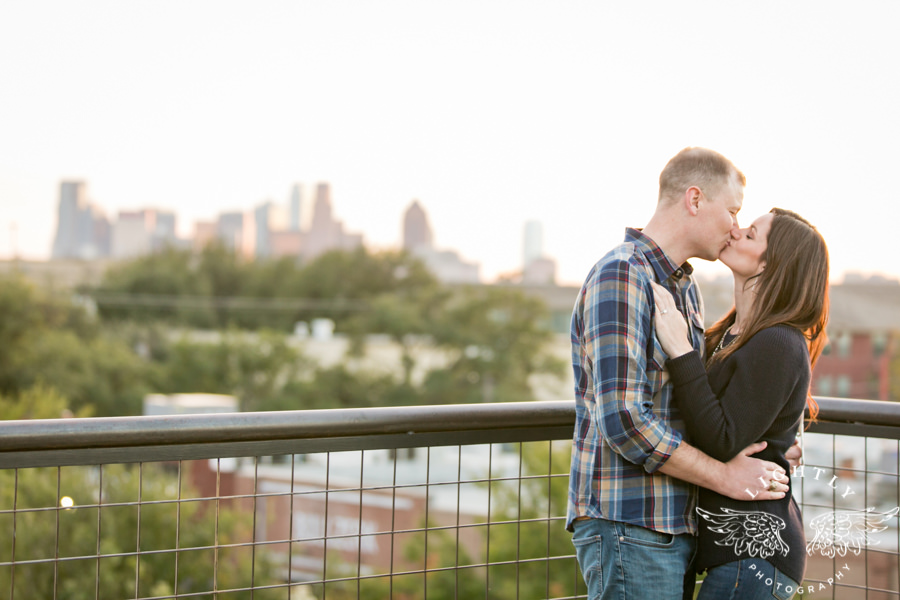 When I met Meredith I was delighted how much we had in common. We're both nerds for proper grammar, very proud pet parents, huge music lovers including Indie Folk music, and extreme fans of the fried Oreos at the State Fair. (Of course, who isn't?) So it came as no surprise to me how much fun I had photographing her and her fiancé, Scott, and their sweet pup Emma!
Since Meredith works as a graphic designer for an architect firm, we agreed it was only fitting to plan the engagement session around highlighting some of Dallas' finest buildings. That in mind, we opted to start at AT&T Performing Arts Center and then worked our way over to their favorite neighborhood (and mine), Lower Greenville for some sunset photos including the Big D skyline.
We also showed off their love of music with a quick stop by Good Records, and got some pictures with their pup at Truck Yard's super cool patio. I seriously had the best time with these two, and can't wait for their wedding day.
Now here's a little more about their love story, in Meredith's own words.
"We were introduced about 7 years ago by Scott's brother & sister-in-law, Eric & Dayna Comley. Eric & Dayna moved to my hometown of Marietta, Oklahoma in 2011 and started attending the church where I grew up. After I attended college at OU and moved back near my hometown, the church had asked if I'd come back and play the piano since they had been without a pianist for some time. Eric, Dayna & I were the youngest people at the church by at least 30 years, so we naturally started hanging out and they said that I'd probably like his brother Scott since 'we were both sarcastic and liked music.'
Scott & I met a few times and did like each other, but long distance didn't really work for us. In 2013 I was asked to relocate to Dallas for work, so I rang up the only person I knew in Dallas to introduce me to the area and we've been dating ever since."
"We love music. All kinds. We both appreciate the Beatles and Led Zeppelin. He's got a sad folk love of Ryan Adams and Ruston Kelly, I have a soft spot for 90s boy bands and Britney, but we both know every word of Mr. Brightside by The Killers. We love to see it live when we can… We also love to travel. We've been to NYC, Chicago, Denver, Salt Lake City, Las Vegas, and Mexico. We've both been to Europe separately when we were younger, but are planning a big European tour together next fall to be a celebratory MBA graduation present and plan to eat all the bread and drink all the wine.
On the weekends you can usually find us having dinner and drinks with our two best buds, Kyle and Josh, somewhere on Lower Greenville or Deep Ellum. In the fall it's usually in tandem with a Texas A&M or Dallas Cowboys game. The three of them have deemed me an 'honorary Aggie' because I've rooted for Aggie football more than any good Sooner should in the past 5 years."
"It's always been a bucket list item for us to see a concert at Red Rocks in Morrison, CO. One of our favorite artists of the moment, Father John Misty, scheduled a show there for August 15 and it happened to be the same week as Scott's fall break from classes (he's getting his MBA). So we decided the stars had aligned for us and we bought tickets to the show. One of my favorite songs is called 'Chateau Lobby #4' which is an ironic love song about not liking people much at all and then being upset when you realize you've completely fallen in love with someone. Almost like love snuck up when you weren't looking and tricked you into it. The last lines of the song are 'I haven't hated all the same things as somebody else since I remember. What's going on for, uh, what are you doing with your whole life? How about forever?' and then he turned to me and got down on one knee and said 'Will you marry me?' It was a perfect moment and of course I said yes. I couldn't believe he had smuggled a ring onto the plane and into the concert and had not tipped me off at all!
Thanks for being so much fun, you guys. Already looking forward to your wedding!
– Jennifer