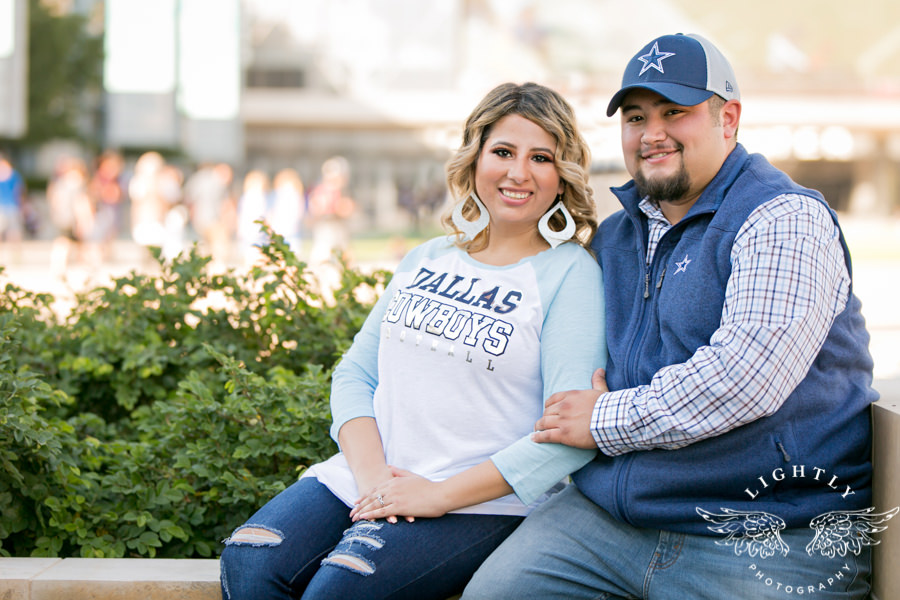 If their attire didn't give it away, Kirstie and Mike are pretty big Cowboys fans. In fact, during my first encounter with them they let me know that they planned on putting their team spirit on proud display during their engagement session. So, after some brainstorming, we decided to shoot their playful engagement session at the Dallas Cowboys' practice facility in Frisco, The Ford Center.
Let me tell you, these two showed up to impress, decked out in all their best fan gear, and Cowboy boots, obviously! The Ford Center was a bustle of activity on the day we met there, which meant we had to dodge flying footballs and the next generation of Cowboys (in other words, rambunctious kiddos) during their session, but it was totally worth it. Because we were able to celebrate both Kirstie and Mike's love for each other, and their favorite team!
After a really great history lesson in Cowboys trivia from Mike, we headed over to Frisco Central Park for a few more romantic images. Please note that Mike still managed to sneak in some Cowboys blue. 🙂
I had such a great time with these two, and Kirstie's parents who came decked out in Cowboys gear as well, that I really cannot wait for their wedding next year. I know it's going to be a ton of fun! In fact, I'm going to get my best navy dress prepped now.
-Jennifer