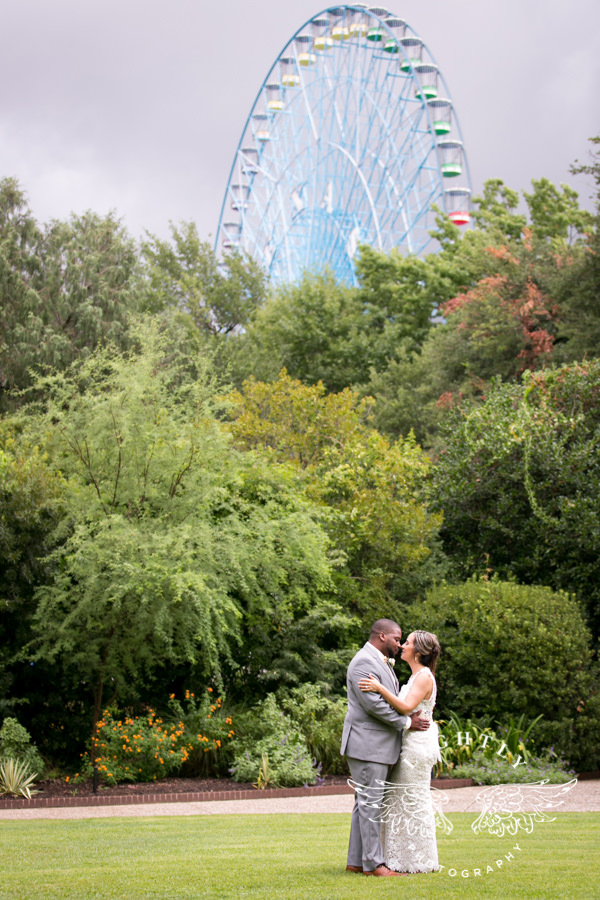 Carita & DeShawn didn't let a little rain stop them from enjoying their wedding day at Texas Discovery Gardens. Instead, they were beaming with joy at the fact that they got to commit their lives to one another – and eat cake! – all while surrounded by the support of their family and friends, who were super involved in the entire day.
Both Carita's daughters and DeShawn's sons served in the bridal party and helped them get ready. The youngest two even got to carry their rings. Carita also chose to be walked down the aisle by both her mother and grandmother, which was so sweet it had many of the guests in tears. Carita's dad officiated the ceremony, which helped make it all the more special for them.
Even their choice of venue was personal, as Fair Park is where Carita's grandmother worked for over thirty years, and where she spent a lot of time making memories as she was growing up. I think it's so amazing that she and DeShawn got to make so many wonderful new memories together with their families in this same spot on their wedding day.
I really love when couples find ways to involve their closest friends and family, as it can help make the whole wedding day all the more meaningful and unique! And that was definitely the case with these two, and all the loved ones who helped make their wedding dreams a reality, rain and shine!
Thanks also to all of the wonderful vendors who helped make it such a beautiful day!
– Jennifer
Venue – Texas Discovery Gardens
Hair + Makeup – Liliana Giddensup at Millionaire Brides Club
Bridal Gown – Classy Concepts
Bridesmaids – Kohl's
Floral – Sugar City Celebrations