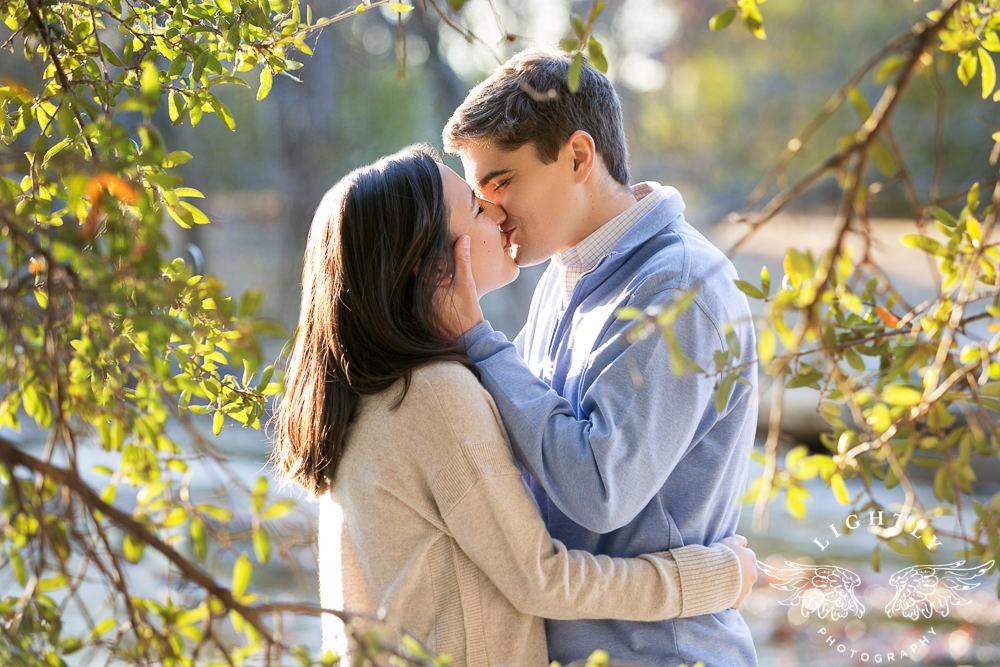 How adorable are Claudia and Patrick??  Just the cutest, if you ask me!  One thing I like about Texas Decembers is that it still looks like fall!  We got ALL of the fall colors during their engagement session and it was absolutely fabulous.  Claudia and Patrick met while working together about 3 years ago.  Patrick is now in school in Alabama so they are having to do long distance for now.  They love traveling together so Patrick proposed to Claudia while they were on a trip to Canada. Here is their proposal story in her own words:
In order to appropriately celebrate our summer together in 2017, we decided to take a long weekend trip together to Canada. We found a good flight sale, and being the travel aficionados we are, a trip to Ottawa and Montreal was the perfect end to a great three months of being in the same city. Patrick was insanely sneaky, and it should be known that I had NO IDEA the entire time that he was planning everything in the background. We had dinner reservations (not suspicious since once again, we were celebrating the end of the summer), and Patrick suggested we stop by this university campus on our way to dinner. McGill University, is what I would describe as the "Harvard of Canada". It is old-style, historical, "Hogwarts-y", and filled with pretty flowers. We walked around in massive circles because Patrick wanted to find this one cool entrance. We were on vacation, and I was super relaxed, so the fact that we were for some reason walking in circles to find this one particular spot didn't even seem to bother me or raise any sort of questions. When we finally found the entrance, we walked together up this long walk-way to the main building with a beautiful flower garden in front that looked like a heart (really it was McGill's crest, but it looked like a heart to me). When we got to the top, Patrick got down on one knee, and despite the fact that I think I blacked out in shock and unfortunately couldn't tell you the exact words that came out of his mouth, it was the sweetest and most beautiful question he has ever asked me. Of course, after multiple "omg's" and tears, I said yes!
  They will be getting married next year and I cannot wait for their big day!  It is sure to be a blast!
-Amanda