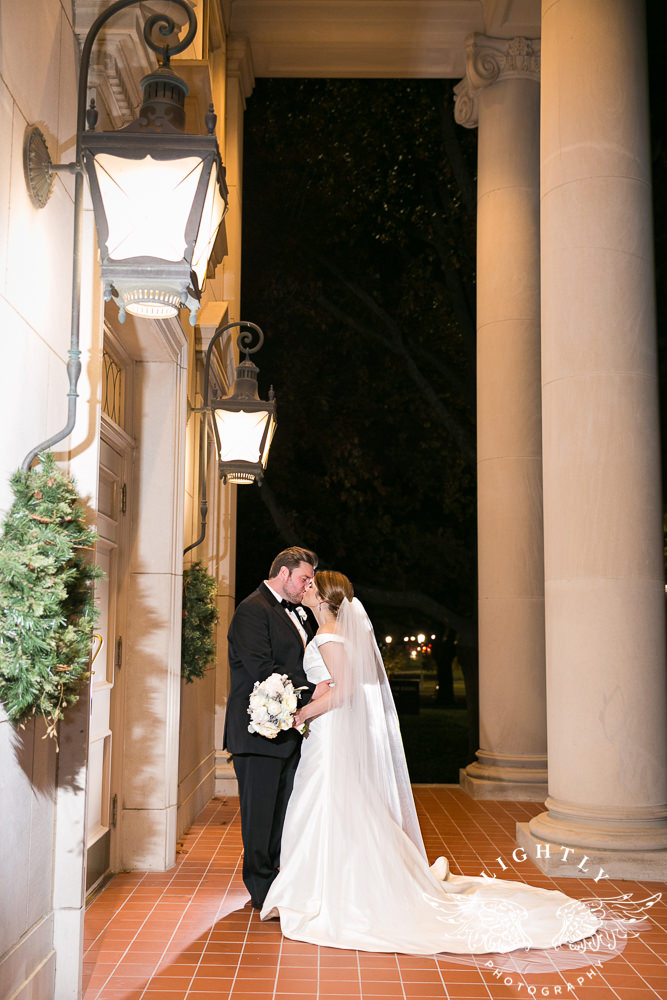 What a fun day!  Ali & Caleb's ceremony was fantastic and now it's time to party and celebrate all of the little moments that led to this moment!  Ali tells us about the best moment (the proposal!)  in her own words.
"It was a cold and rainy weekend in February and I was down in Austin visiting Caleb. He had planned for us to go to a winery with two of our friends Amy and Henry that evening. We were to pick Amy and Henry up from Camp Lucy to head to the winery and get our tasting on. When we arrived Amy immediately sent Caleb away to do "work" while we could chat. While I was chowing down on a cookie, Amy asked if I would be interested in seeing new developments on the property at Camp Lucy. We were touring the bridal suite and she was asking me if I had any idea of where I would want my wedding to be one day. I pointed to my left hand and said "I have no ring, so not yet" (little did I know) Amy asked if I wanted to go see the new benches in Ian's Chapel- I thought it odd but I obliged. As she led me up the stairs to the chapel I started to hear music, when we approached the chapel doors she swung them open and there Caleb stood at the end of the aisle of the church surrounded by candles and rose petals. Caleb got down on one knee and the rest is a blur. (I obviously said YES!) I somewhat caught my breath and walked outside to a photographer who was there to take pictures of our special day, she snapped away as I was still blown away that such an amazing man just asked me to be his wife.

Caleb took me to another venue on Camp Lucy's property where there were flowers, pictures a fire and every romantic thing I could dream up. As we were chatting (really, I was crying like a baby) my Mom and Dad walked through the door followed by my sweet brother Ben, Lauren, and some of my best friends. I was so excited the tears started to flow even more. It was so perfect. Later that evening after the champagne was popping, Caleb ushered us all to his parents' home where they threw us the most incredible engagement party. However, sweet Caleb was not done yet. He told me that night there would be another engagement party waiting for me when I returned home to Dallas. When I arrived back in Dallas on Sunday all my best friends were waiting to celebrate with us. It was an absolute dream; I cannot wait to Marry Caleb. I am still blown away at how sweet the Lord has been to me-I am lucky to be gaining a man who seeks The Lord fervently and loves me with all that he has. I can't wait to spend the rest of my life with him!"
I absolutely adore Ali and Caleb and had so much fun celebrating their love with all of their family and friends.  They had one heck of a reception and danced all night long!  Congratulations to Ali and Caleb!
-Amanda
A special Thank You to all of the wonderful vendors!
Wedding Coordinator – Tami Winn Events: Jamie Lemke
Bridal Gown – Stardust Celebrations
Hair/Makeup Artist – Elan Makeup Studio
Floral – Tami Winn Events
Paper Products – Paper Planet
Entertainment/Lighting – LeForce Entertainment: Ed Petty
Cake Artist – Mindy's Bakeshop
Catering – The Fort Worth Club